Mostre ed Eventi - Exhibitions
Poiché il vero protagonista di Art Vinyl è la copertina stessa, abbiamo un programma di Mostre dedicate che celebrano varie tematiche nel meglio dell'arte delle copertine.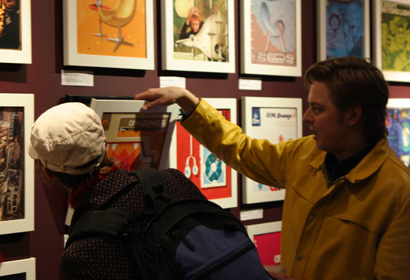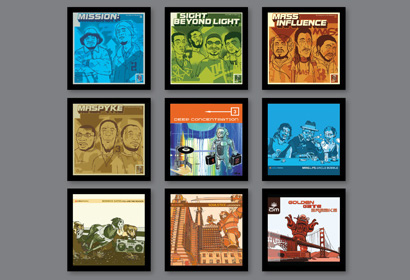 The Art of Om Records
Art Vinyl put together this exhibition with Om Records to display the label's history of refined and innovative aesthetics which always push the creative boundaries. For OM Records the art and design is as important as the music, demonstrated by their predisposition to work with cutting edge artists and new talents.
Artists featured in the exhibition included legendary graffiti artist and original member of the Rock Steady Crew, Doze Green. Influentail LA based artist ad BLT/MRKT gallery owner Dave Kinsey and David Flores – the urban artist and creator of the iconic 'San Francisco Breaks' cover and favourite of Kanye West.
The Om family embraces a unique body of talent: matching distinctive musicians with ground breaking artists. From Mark Farina's 'Mushroom Jazz' to the 'Om Lounge' series to Soulstice; Om has without a doubt left an indelible mark on dance music culture today.